About the Duo
Joan Hatley and Mary Sallee met at the University of Oklahoma in 1980 as piano students of Dr. Edward Gates. They became fast friends and musical allies but didn't begin performing as a duo until 1990. Friendship still intact, they continue to perform on various concert series.
Since 1990, the duo has been featured in concert for Tulsa Performing Arts Center's Brown-Bag-It Series. In recent years, they have performed for the Bernsen Concert Series in downtown Tulsa as well as the OK Mozart Festival in Bartlesville.
Other venues include concerts at Boston Avenue Methodist Church in downtown Tulsa, Oklahoma University, Oral Roberts University, Phillips University, Tulsa University and Kansas State University. The duo has also performed for numerous music conferences of the Oklahoma Music Teachers, Tulsa MTA and various Sigma Alpha Iota music events.
In 1993, Mary and Joan began the Sigma Alpha Iota Nancy Neal Scholarship Fund in memory of their friend and colleague, performing benefit concerts to help fund the scholarship. Since its inception, the duo has raised a little over $900 in scholarships for young women who are pursuing a degree in music.
The duo performs a wide variety of two-piano and four-hand repertoire from the Baroque, Classical, Impressionist, Romantic and 20th Century style periods. The couple also performs sacred music and arrangements written by Ms. Sallee.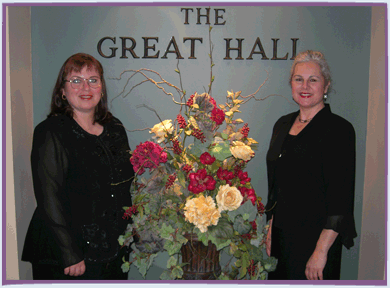 For booking information, contact Mary Sallee at 405-447-1370 or mksallee@cox.net. To hear a clip from their most current CD recording, click here.

download audio