Benefits of Musical Study
Music is inherent to each of us, and the ability to express this aspect of our humanity is a wonderful gift we can give to ourselves as well as bestow upon our children.
Numerous studies have shown that children who are involved in music tend to score higher on standardized tests and perform better in school. The discipline required in learning to play a musical instrument helps with concentration, while the artistic aspects helps one think more creatively. The music student's development of hand-eye coordination assists in the learning of other motor skills.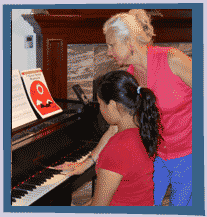 Everyone knows that sports builds character but music lessons can help students succeed when they enter the job market. Making music not only allows an outlet for expression but builds self-esteem and maturity through the setting of goals. Music study teaches self-discipline and builds concentration and persistence toward working through specific goals.
Needless to say- music study can bring a lifetime of joy and fulfillment through creative self-expression, - not to mention, it's fun!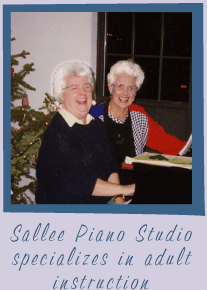 Tuition and Fees
Monthly fees are based on tuition for three separate semesters: spring, summer and fall. Private lessons are normally 45-60 minutes in length. An annual enrollment deposit of $50 ($40 for adult students) reserves a lesson time for the fall and covers all music, materials and misc. fees.
Ms. Sallee's Training
Ms. Sallee began her musical training in 1967 at the age of six and continued her formal studies through 1986. In 1979, she began her study in piano with Dr. Ed Gates at the University of Oklahoma. Five years later, she graduated with a double major in piano performance (BM) and vocal music education (BME) and was selected as the Outstanding Senior in the College of Fine Arts. That same year she won the Piano Concerto Competition and was awarded a full scholarship to study for a summer at Westminster Choir College in Princeton.
In 1983, she spent a year in Vienna, Austria as a Rotary Ambassadorial Scholar, studying at the Hochschule fur Musik. She later returned to OU to obtain her masters degree in Piano Performance and Pedagogy. During her study, she was one of six graduate students in the nation selected to perform and teach at the National Conference on Piano Pedagogy in Ann Arbor, Michigan.
If you are interested in more information about Sallee Piano Studio, please contact Ms. Sallee to schedule an interview.


Take Time to Find a Qualified Teacher
We've all had experiences where the right teacher led us in the joy and enthusiasm of learning, while the wrong teacher led us into a sense of apathy and frustration.
Consider interviewing with several teachers to examine their training, studio policies and to see if their teaching philosophies are compatible with your own. Do not base your decision on the least expensive teacher or the most convenient. These skills are intended to last a lifetime and are worth your investment of time, energy and money.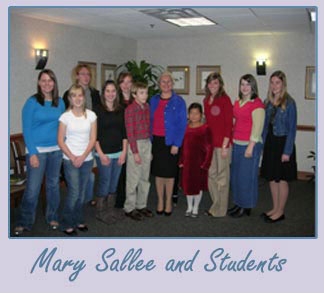 Philosophy
Sallee Studio aims to develop well-rounded musicians, building an appreciation for all styles of music. Students receive a foundation of fundamental skills that incorporate harmonization, theory, ear training, composition and improvisation.
All students are encouraged to sing and expand their musical literacy by taking part in a weekly listening assignment that culminates in a test at the end of the semester. This not only fine tunes their ears to the elements of music but exposes them to great works of the masters. They also learn to discern the different periods and types of musical style.
All pre-college students are encouraged to perform twice a year, in both formal and informal settings. Adults are encouraged to attend 'piano parties' and provide an audience of support for those who wish to perform.
Teaching Experience
Ms. Sallee has been teaching professionally in Norman since 1986. For two years, she served as a graduate teaching assistant for the OU School of Music. For four years, Ms. Sallee served on the adjunct piano faculty at Oklahoma Baptist University where she taught class and private piano. In 1990, she opened Sallee Studio in downtown Norman, where she employed up to three teachers on her staff. In 1996, she began composing music for her students and is currently published by four major publishing companies. In the summer of 2000, she downsized her studio to teach at home, allowing more time for her composition projects.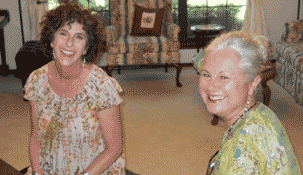 Professional and Performing Experience
As a composer, Ms. Sallee has over 50 solos and collections of piano and choral music published by Alfred, Willis, FJH and Carl Fischer Music. As a recipient of various commissions, her compositions have won national competitions and have been featured at various state and national keyboard and choral conventions.
As a Nationally Certified Teacher of Music (NCTM), Mary currently serves as as one of seven Directors of the MTNA Board, representing the South-Central Division. She has served as president of the Oklahoma Music Teachers, the Norman Area Music Teachers (NAMTA) as well as the Central Oklahoma Music Teachers (COMTA). For four years, she served on the Norman Arts Council where she was secretary for two years.
For fifteen years, Mary was a performing member of the Sallee-Hatley Piano Duo which concertized throughout the state. For many years, the duo was featured annually at the Tulsa Performing Art Center's Brown-Bag-It Series as well as the Tulsa Bernsen Concert Series and the OK Mozart Festival in Bartlesville.
Mary also performs as a dinner/jazz pianist. Since 1998, her jazz combo has been featured throughout the metro for civic and private events, including Norman's Jazz in June. For over 25 years, she has free-lanced as a choral, vocal and dance accompanist including staff positions at the Oklahoma Summer Arts Institute and Fall Adult Institute.
Ms. Sallee also free-lances as an accompanist, church pianist and conductor. For seven years, she served as pianist and composer-in-residence at Westminster Presbyterian Church in OKC. For many years, she was a member of the Oklahoma and American Choral Directors Association where she accompanied for various workshops and reading sessions.
She currently serves as pianist at In-Faith Baptist Church in Norman. As a free-lance pianist, she has accompanied various honor choirs and for choral workshops and reading sessions across the state. She has also served as guest conductor for Circle the State With Song. Ms Sallee sang with the Canterbury Choral Society in OKC from 1997-2004 and was their commissioned composer in 1996. Currently, Mary is a singing member and part-time accompanist with the Windsong Chamber Choir in Oklahoma City.